Friday, Sept. 23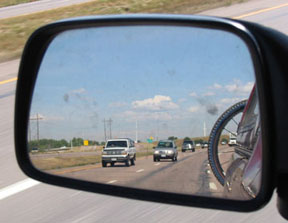 Hasta la vista, pendejos
SANTA FE, N.M. — That's the ass-end of the Colorado Springs "metro" area in the rear-view mirror. Looks pretty good there, doesn't it? Despite its many drawbacks, from the tinfoil-beanie, black-helicopter nutjobs to the junior-varsity Elmer Gantrys, I kind of like the place — hell, I've lived there off and on for something like 16 years — but it often looks its best in glass framed by black plastic from the Toyota Motor Corporation, receding into the background. Objects May Be Closer Than They Appear, my ass. Not at 85 mph.
What the hell is he on about now, you ask? My annual hajj to Mecca, of course — what the infidels call a road trip to Las Vegas - and it's all about using the bicycle as an excuse to get the hell out of Dodge.
Dubya was on another one of his road trips, this time to my hometown, so I thought it wise to hit the trail a day early lest I be invited to assist the Ministry of Homeland Security with certain inquiries.
The trip got off to its usual butter-smooth start, with a trio of evil omens. The Tacoma's pre-launch oil change turned up about a half-G's worth of bad news; my buddy Brian Gravestock got backed up and just barely had time to slap a new-used fork on the mountain bike I was taking along; and the iBook I had scheduled for duty developed a hiccup. What the hell: We're talking Toyotas and Macs here. I skipped the maintenance on both and headed south at high speed with Robert Earl Keen at the plate and Steve Earle on deck.
South? Yes, south. I take the scenic route on these junkets, because nobody in his right mind is in a hurry to get to a trade show in Vegas. It could be worse — the show could be somewhere along the Gulf Coast, where the NPR reporter sounded like he had a full diaper — but basically, Like Doc in Cannery Row I don't get anywhere very fast because I'm always dicking around.
First stop was Santa Fe, where the local color was in full bloom, and I ain't talkin' 'bout no aspens, neither. The multiply pierced, unreservedly gay Mexican-American working the motel desk twittered, "If you need anything, please call the front desk, but I probably won't answer because I don't feel like talking right now." How you can talk at all with a headful of hardware is beyond me, primo. The City Different indeed.
I couldn't find a place to park at the Second Street Brewery. Maybe Pat Oliphant was there. Everybody else in town sure was. So after a first-gear slog along the lumpy railbed behind the parking lot and a brief illegal roll down a sidewalk, I was back on St. Michael's and bound for La Choza, where for a smattering of Dead Presidents, any one of which is smarter than the jagoff currently riding his mountain bike on my trails, I scored a combo plate with a chicken enchilada, beef taco, tamale, beans, rice, posole, all smothered in green chile and washed down with a brace of Pacificos.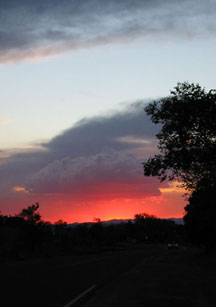 Riding into the sunset
After enjoying the sunset along Artist Road, which provided the first nut-crushing climb in the old Santa Fe Hill Climb, I took a couple Pacificos back to the room and tried to watch TV. No joy there. Paying a cable company to bring this shit into your house is like hiring a carny barker to shout at you. So I drank the beers and watched the movies on the backside of my forehead instead, and then went to bed.
Morning brought coffee, orange juice and a sausage, egg, potato and green-chile breakfast burrito at Tia Sophia. The Santa Fe Reporter front-paged the same story I'd seen on Thursday in the Colorado Springs Independent, a piece about the top-10 censored news stories of the year, so maybe I haven't gotten as far away from home as I thought. So much for freewheeling independent muckraking. A stint at Ten Thousand Waves to flush out my headgear is indicated.
Extra-credit reading:

Saturday, Sept. 24


FLAGSTAFF, AZ — Fuck, these people must be following me around. I'd planned to hit the Beaver Street Brewery in Flagstaff, but it looked like all the evacuees from Rita were there, practicing their German. The closest other watering hole, Altitudes Bar & Grill, was bouncing a street person as I walked up — "Either leave right now or I call the cops!" — so that was out. Collins Irish Pub it was. The few customers were outnumbered by the serving staff, a scattering of pulchritudinous young lovelies in black Hootersesque abbreviated tops reading "Collins Girl" on the back. I wasn't looking at the back. Well, not as much as I was at the front, anyway. A handful of geezers dressed far too young slobbered disgracefully over the girls. Glad I'm not like them.



Take me right back to the track, Jack


The Sierra Nevada Pale Ale on tap was less than spectacular, as was the college football on the tube (Arizona State versus OSU, from my old hometown of Corvallis, Oregon). The Beavers were down 14-3 going into halftime, about par for the course. A popular bumper sticker in the early Eighties was "I'm a Beaver Believer," which could be construed as support for the team, or poontang, or both. The music howling from the sound system was a trip down memory lane, too: Eagles, Cars, CSN&Y, and Hendrix ("Manic Depression"). Oh, Christ. More beer, please.

After high-rolling in Santa Fe, I usually take the low road in Flag', which means Motel 6 and Dennys instead of Holiday Inn Express and Tia Sophia. Henceforth, Motel 6 is out, seeing as it is the last nationwide chain to eschew high-speed Internet; for that, you have to bop down the road to Late for the Train, a fine local java stop with bike people on staff. Motel 6's are miserable flophouses in any case, one step above a night in the local jail, the upside being they give you a key and you get to choose your roommate. It's just the place if your luggage is Rubbermaid and you need a place to cook some meth. As for Dennys, well, I consider it an inoculation against the Sin City dining "experience." By taking in small quantities of bad food over a period of time, one avoids shocking the digestive system with what one encounters in the various casino chuckwagons and in the Sands itself. It's hard to be professionally witty with a significant portion of the intellect devoted to not shitting yourself.

Next up: Laughlin-Bullhead City.






Run awaaaaaaay ...


Sunday, Sept. 25


LAS VEGAS, NV — Bullhead City is misnamed. Bonehead City would be more like it, or Bullshit City. No place is so cold that I would voluntarily flee it to Bullshit City, no matter how feeble my circulation or hardened my arteries. The "master-planned developments," whatever that means, suffer from grandiose monikers like The Villages Up Shit Creek or Hell's Half Acre ("If You Lived Here, You'd Be On Fire By Now!"). The prevailing building style is Mission Architecture, if the mission happens to be to Mars, or maybe to the Saudis. Face it, folks, this is where the Devil stores whatever he doesn't need to run Hell right this minute. I know there's a bike shop here, because I saw it once. But I've never seen a Bullheader riding a bicycle.

Vegas, meanwhile, is worse than ever. What isn't being built is being destroyed, and everything else is being resurfaced. The little Mexican place I used to patronize is gone, as is the Z Tejas next to the Fairfield, and while looking for some passable substitute I found myself ensnared in what passes for traffic in Clark County. The Custer County cowboys who guffawed when the Silver Cliff liquor-store clerk said she hadn't seen me around and I told her that I'd been living in Colorado Springs, which was kind of different ("It's a traffic jam, is what it is, haw haw haw!") should try herdin' the old F-150 around here some sultry Sunday evening. They'd swaller they snoose and shit down they laigs, is what. When the dust settled, I found myself somewhere out on Tropicana, muttering about justifiable homicide between snaps at a Qdoba Mexican Grill burrito the size of a regulation NFL football and guzzling Tecates in full view of two motorcycle cops. Fuck it, arrest me. I won't have to clock in and go to work on Monday. And I've already been paid.

Next up: Boulder City and Outdoor Demo



Quick, Bubba, while he's got his back to us . . .


Wednesday, Sept. 28


LAS VEGAS, NV — Sort of missed a couple days there, didn't we? If I were you, I'd ask for my money back. The long and the short of it is, Outdoor Demo took place as scheduled (for the IRS auditors in the viewing audience, that is indeed me at the first day, so gimme the deduction, you blackhearted sonsabitches). Andy Jacques-Maynes won the hill climb, and not just because I wasn't racing. A couple people came up to speak to me and they weren't carrying torches, pitchforks and a rope.

Once the dust settled, both literally and figuratively, we declared Bugsy Siegal's Fun House open for business, which means beers at Gordon Biersch, Scotches at Ruth's Chris Steak House (if you go, give our love to Mistri the Bartender), and much wailing, moaning and gnashing of teeth on Tuesday as the damage was assessed, the bodies counted and the first Show Daily produced, albeit an hour late. As usual, all errata are someone else's problem. Don't come looking to me because some hungover drone ID'd you as a Saudi terrorist or declared your company bankrupt. I just do the comedy.



Bootleg Canyon


Speaking of comedy, nobody told us that our hotel was under construction. Should be finished, oh, right about the time we check out on Friday. The upside is, we don't have to buy any more Scotches. We just hang out in the lobby and huff carpet glue. The staff has that clenched look typical of someone locked in a Modius-strip fight-or-flight loop. The "continental breakfast" features bagels from King David's tomb and the kind of coffee that even Mormons can drink because it contains no caffeine, or not enough, anyway.

But enough about that. I understand there's a bike show going on around here somewhere, and I'm just the guy to find it. I hear they have real coffee there, too.







I know that if I open my eyes,
I'll bleed to death


Thursday, Sept. 29


LAS VEGAS, NV — Another day in the barrel, and what a big barrel it is. I caught up with my old buddies Lo Esparza, Gregg Bagni and Biill Ramsay before I even cleared the lobby, we got the Show Daily out on time, or something very close to it, and we were drinking six liters of tequila out of a fake cow's udders by 6 p.m. It doesn't get any better than this.

Don't expect any details about the latest and greatest. When a guy doesn't get out of the basement until happy hour, the last thing in the world he cares about is a carbon-and-ti' wonderbike that he can't afford without selling a car, or maybe a child. What he wants is tequila, and many thanks to the fine folks at DT Swiss for providing same. Incidentally, if anyone out there could use a cow that smells suspiciously like Mexican cactus whiskey, slide on by their booth and make an offer.

The big news at the show actually had nothing to do with bikes. Tom "The Bugman" DeLay finally got caught, though whether the DA can hold onto the greasy sonofabitch is anybody's guess. People would be jabbering about carbon this or full-suspension that and I'd chime in with, "Didja hear DeLay got indicted?" and they'd go all goggle-eyed and holler, "No shit? Woo hoo!" Then they'd start in on ropes and tumbrils and all the shit a guy can really put to good use in these troubled times.

But we were talking about drinking, as I recall, and last night we were doing more than talk about it. I won't say that cocktails were consumed in quantity but Pete Van Nuys's credit card finally caught fire around 1 a.m. at Ruth's Chris. We chatted with the owner and a man I believe to be the manager and if I'm not mistaken we now own stock in the place and have to turn up to bus tables shortly after the show closes this evening. More on that later.

Next up: Interbike, Day 2



Just like the Oscars and Grammys,
the Golden Toiddys are vitally concerned
with haute couture


Saturday, Oct. 1


LAS VEGAS, NV — Missed another update there, didn't we? Alas, words quickly lose all meaning when you are a hungover, three-legged water buffalo of journalism surrounded by a pack of marketing hyenas intent on ripping the King's English and your sanity to shreds with their shiny capped teeth. After a few chats about proprietary WhoZis and patent-pending WhatZis, a guy gets the urge to sacrifice a black goat to The Dark One — yes, that's right, Dick Cheney, Lord of the Underworld — begging Him to bump you into the express lane to Hell, which as punishment tours go looks like a day at the beach by comparison.

The best news of the last two days of the show was the resurrection of the Golden Toiddy awards. A staple of Interbikes past, thanks to Bruce Gordon and his nefarious crew, the awards come from the Society of People Who Actually Make Their Own Shit (SOPWAMPTOS), and are not intended to flatter. No overlong acceptance speeches here, especially if you're getting the Same Shit, Different Shovel award, as Marzocchi did. "I think we can agree that we're all tired of half-naked girls serving coffee," said Sean Walling. Well, no, actually, but thanks just the same. Here are the remainder of the awards:


Best U.S. Bike Company Made in Taiwan: Surly.
The Magazine Most Likely to Feature a Picture of a Man's Penis: The Outcast.
Self Appointed Guru: Grant Peterson.
The Raising the Bar award went to an anonymous gentleman whom Walling called "the Specialized penis-meter guy." (He apparently was unavailable or unwilling to respond to an invitation to address the throng.)
The Bike Company Most Successful with Rich White Men: Seven Cycles.
Same Shit, Different Shovel: Marzocchi. "I think we can agree that we're all tired of half-naked women serving coffee," noted Walling.
Best On-Shore Sweatshop: Timbuk2.
Just Because: Gary Fisher.
The only carbon-fiber toiddy, the Enough Already award, was presented to the whole industry. "Deep underneath this there is a steel core, but it's wrapped in carbon fiber," quipped Walling.
And last, but not least, the inaugural Golden Fist award went to Cannondale for what Walling sardonically called "their successful reorganization."

And that's it from this end. I'm out of here at high speed, with a truck full of dirty laundry and beer, bound for a place where a guy can actually ride one of these bicycle thingies all the hyenas were on about for the past five days. Thanks for reading, and look on the bright side: Some day, we'll all be dead.





---

Copyright © 2005 Patrick O'Grady/Mad Dog Media. Steal any of this shit and you're liable to get sued too.


---