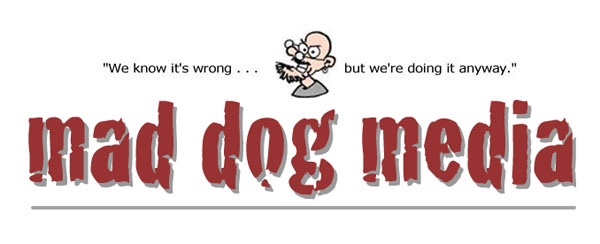 The hindquarters of the Mad Dog Media Communications Empire
By Patrick O'Grady
maddogmedia at gmail dot com


A letter from the editor


I ALWAYS WANTED TO BE A CARTOONIST. And I am. But I've been a writer and editor for the past three decades, too, and that's what's kept the kibble in the dog dish all these years.

If I'd had to rely on cartooning for a living, I'd have starved to death in the summer of 1977, shortly after graduating from the University of Northern Colorado at Greeley with a bachelor's degree in journalism and minors in political science, sex, drugs, alcohol and rock 'n' roll. Because while I went on to draw editorial cartoons for a number of newspapers, among them The Arizona Daily Star in Tucson, the Corvallis Gazette-Times in Oregon and The Pueblo Chieftain in Colorado, they all insisted that I do something else, too, and plenty of it, if I wanted to get a weekly check with more than two digits on it.

So I've written hard news, features and commentary; spent many an evil night as a rim rat on one copy desk or another, editing other people's stories, writing headlines and laying out pages; and even scored a half-assed title from time to time, generally in lieu of a raise and prefaced with the word "assistant" — assistant news editor, assistant city editor, assistant sports editor, assistant features editor. I made it all the way to news editor once, at a chain of suburban weeklies in Denver, only to get laid off. And I quit newspapering altogether in 1991 after a short stint as the feature editor of The New Mexican, where I edited copy, laid out pages, wrote about bicycle racing and took pictures for the sports department — and yes, drew cartoons.

In late 1991, after nearly 15 years with my scabby little snoot pressed to various grindstones of journalism, I took up free-lancing. Twenty-two years later, I'm still at it, writing and cartooning for Bicycle Retailer and Industry News, running the VeloNews.com website on weekends and reviewing touring bicycles for Adventure Cyclist.

Between paying gigs, I post to my personal blog, Mad Blog Media. I launched an earlier version of that free WordPress blog in late 2008, Mad Blog Media v1.0, with a WordPress install on the back end of this site, which had come to feel unwieldy and one-sided in an era that increasingly demands two-way communication.

I'm leaving this archive in place — seven years' worth of toxic cranium exhaust — and you may feel free to peruse these pointless harangues at your leisure. But be advised that they contain toxic quantities of disrespectful parody aimed at my betters and rude satires intended to cause grievous harm to the humorless clots of tight-sphinctered ninnies whose breaking of wind only dogs can hear. Mad Dog Media neither sells nor installs senses of humor — we merely service them.




---

notice to thieves, lawyers and thieving lawyers

Words and pictures on the DogPage © 2013 by Patrick O'Grady/Mad Dog Media. All rights and most lefts reserved. This material may not be published, broadcast, rewritten, redistributed, laser-printed, photocopied, crocheted into a sampler, knitted into a sweater, tattooed on a floozy, spray-painted on an overpass, tapped out in Morse code, sublimated onto a jersey, shared in whispers in the back row of an adult theatre, shouted from the rooftops, scored for the Crusty County Symphony Orchestra, translated into Squinch, or communicated via telepathy without the permission of and the hefty payment to a heavily armed, whiskey-addled cyclo-cross addict who knows where you live. Bonehead shysters and the simpletons who employ them, take note: The opinions expressed on the DogPage contain toxic quantities of hyperbole, satire, parody and humor. Pah-ro-dee. Hyyuuu-mor.Acquire a sense of same or read at your own risk.


mad blog media

This page is history — if you want to know what's happening right now, click here for the very latest from the poison pen of Patrick O'Grady.

twitter




beer & loafing in las vegas

Come fall we generally crank up the Dogmobile for another alcohol-fueled run to Sin City and back for a peek at next year's bicycles, to say nothing of a red-eyed stare into many an empty glass. Pickled insights regarding the 2006 Interbike trade show can be found here and here. Gluttons for punishment can find the 2005 edition here. Serious masochists can get the sodden scoop on Interbike 2004 here.

videocy

As if regular TV isn't bad enough, right? I've discovered video, in a very lame, minimalist way, and expect to be nominated for an Emmy in the prestigious category of Obscure Online Annoyances. Think of it as proof that some pictures are not worth a thousand words.

dogcasting

When the spirit moves, which is not often, I fiddle with podcasting. So if you're up against it in the cube farm and have a set of headphones handy, flip your digital dial to 66.6 for some virtual venom.